Plan 1092
(Image above shows full front porch plan variation for Mountain Horizons Subdivision)
1,092 Square Feet, 1-Car Attached Garage (optional), 3 Bedrooms, and 1 Bath Featuring:
R-40 structural insulated panel or double-wall stud construction
R-60 attic insulation
All-electric space and water heating
Complete Heat Recovery Ventilation System
High Performance windows and doors
We also sell a reversed version of this design which can be used on the opposite side of the street and still take advantage of solar gain. To order that plan version, request Plan 1092R. Plan reviewed and approved for construction throughout Montana without further plan review needed.
Plan FEATURES:
25 full sheets of complete details
Instructions showing suggested Construction Sequences
Completed HUD Materials Specifications sheets (HUD-FHA Form 26-1852)
Each Set includes four bound sets of 11-by-17-inch plans for $250.00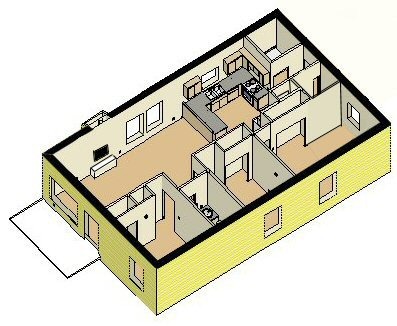 Purchase Here:
Frequently Asked Questions
How were energy measures selected?
We show energy measures that, taken together, are the best value for the consumer. We wanted high comfort and safety levels combined with the lowest possible annual operating cost and construction cost. To keep construction costs affordable, we wanted measures that easily meet current codes and standards and are readily understood by most builders. We select measures that return solid savings to consumers.
What if my lot is different from what you show? What if my lot has no solar access?
One of the best features of high-performance housing is that it performs well no matter where your building site is located. While south solar orientation and access can provide 15 percent of the space heat, overall performance isn't changed that much if solar access isn't possible.
What happens if I want to change the floor plan?
This plan is quite flexible in regard to floor plan with one caution: we'd recommend leaving the mechanical room and ventilation system ductwork where they are unless you are willing to get additional technical support for this changed system design.
What about a different heating system?
Our plans show all-electric heating systems consisting of electric radiant cove heaters and an electric fireplace. Overall, the house performs as a system. If any system changes are made, care must be taken to ensure compatible choices are selected. Using gas, oil or propane for space and water heating is possible, but only sealed combustion heating units must be used with this type of construction. We do not recommend using wood stoves or wood-burning fireplaces to heat these homes.
What happens if I want a wood-burning fireplace?
All of our designs have electric fireplaces that are warm and inviting, and can be operated by by remote control in addition to the thermostat. If you prefer a gas-fired fireplace for some reason, one could be used but only if it is of the SEALED COMBUSTION type. Any other type of combustion device is inappropriate for these homes. If you want to replace the home's heater with a sealed combustion gas fireplace, choose a model that is designed as a space heater, not a decorative appliance. This option adds both ambiance and additional costs.
Will this work outside the areas shown on the map?
We don't recommend building homes from these plans outside the shaded areas shown on the map in this brochure. The measures are selected for climates with 7000 heating degree days or more, and other measures will prove better values in other climate zones.
What do you recommend for flooring?
We have opted to show sheet vinyl and wood laminate as the flooring choice with the best consumer value for larger families. These also are a good value in the case of owner-builders and volunteer labor.
What if your floorplans are not what I want, but I want the energy-efficiency features?
The Network only develops plans for affordable housing. However, many people have used our plans to educate their local professionals before starting on a larger design. For larger, more affluent housing, check with your local housing professionals for assistance.
How will this house rate in energy programs?
This is a five-star home, with maximum energy savings.
What is included with the plans?
Site/Lot Layout
Floor Plans
Footing and Foundation Plan & Details
Floor Framing Plans
Window and Door Schedule & Details
Complete Wall Section
Room-by-room Finish Schedule
Ceiling Blocking Plan
Elevations (four sides)
Kitchen Elevations, Large-scale Kitchen Plan with Cabinet Layout and List
Heat Recovery Ventilation System – Plenum Plan and Ductwork Layout
Heating, Ventilating and Water Heating Appliances Information & Details
Electrical Plan and Electrical Equipment Schedule
Step-by-step Construction Sequence, with companion exploded diagram
Integrated Radon Mitigation
System Plan and Details
Plan Notes
The house plans include 30 easy-to-handle 11×17 sheets of complete details. These plans are based on detailed field research from the award-winning Montana Superinsulation Project and on the previous experience of a critically acclaimed and highly successful series of house plans for low-cost, high performance homes. These earlier plans were referenced by Ned Nisson who wrote in The Superinsulated Home Book, "Their houseplans are considered the best available."
These new plans are designed especially with owner-builders in mind, including Habitat for Humanity affiliate partner families.