Plan 1045H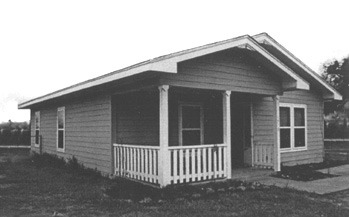 1045 Square Feet , 3 Bedrooms, 2 Baths. Featuring:
R-16.75 wall construction
R-30 attic insulation
Sealed combustion heating unit
High efficiency air conditioning
Whole-house ventilation system
High performance windows and doors
Shaded area shows applicability zone for Plan 1045H. WE DON'T ADVISE BUILDING HOMES FROM THESE PLANS OUTSIDE THE SHADED ZONE.
Features Proven in the Field
The energy features of our hot-climate plans were rigorously field tested and monitored in the High Performance Housing Program in Texas. In our plans these features are shown in detail, including increased envelope insulation, continuous controlled ventilation, moisture control, and energy-efficient windows and doors.
With space conditioning costs of under $250 a year in the Continental United States, this house allows a smaller investment in space heating and cooling equipment. The plan calls for ultra-safe sealed combustion gas appliances that keep dangerous fumes from entering the indoor air. First costs are kept to a minimum through special construction sequencing that ensures high performance whether the house is built by professionals or first timers!
The plans condense nearly 20 years of research, field testing and development into a user-friendly package that takes the mystery out of high performance energy measures, and allows builders and developers to get accurate costs for high-performance housing.
Plan FEATURES:
16 sheets of complete details
Information on products and accessories.
Each Set includes four copies of bound 11-by-17-inch plans for $250.
Purchase Here: