Whitehall Affordable Housing Project on MREA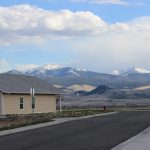 Whitehall Affordable Housing
The National Affordable Housing Network (NAHN) has developed cost-effective Net Zero Energy (NZE) single-family homes powered by solar electric (PV) systems in Montana. A NZE building produces as much power from renewable energy as it uses on an annual basis.
The new home models combine advanced energy efficiency and PV systems sized and based on NAHN's NZE-Ready standard package house plan, which is optimized based on simulation and performance monitoring. NZE-Ready means a building is designed for a renewable energy system to be installed efficiently and cost-effectively at a later date.
These homes are comfortable, safe, and resilient. Proper building orientation provides passive solar heat gains, and heat recovery ventilation keeps the indoor air free of pollutant build-up while reclaiming 70% or more of the space heat generated by the home. The lack of indoor pollutants from building materials achieves clean air standards needed by those with breathing conditions.
What Makes These Homes so Energy Efficient?
Walls are made of structural insulated panels (SIPs) due to their structural strength and storm and water damage resistance. The reduced heat loss and warmer indoor surface temperature of the homes create a comfortable environment where the interior mass of the sheetrock and insulated slab-on-grade floor make for a steady indoor temperature and less human body energy loss to cold surfaces. The construction sequence ensures that air tightness features are accurately built into the design for long-term performance. It is notable that NAHN conducted a large number of detailed performance studies in the 1980s. Then used the resulting high-performance design for homes starting in the 1990s.
PV arrays are located on either the home or garage roof. Solar production covers all energy loads including an interior heat-pump water heater, space heating, appliances, and lighting for homes with 1,300 SF. Combined with other climate-ready features, the homes are ready for storm conditions in the future. Learn more at: Whitehall Mountain Horizons Subdivision: National Affordable Housing Network (nahn.com)
Read the rest of the article at by clicking this link.