Mountain Horizons Subdivision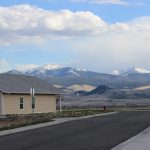 National Affordable Housing Network's (NAHN's) Mountain Horizons Subdivision is currently under development by Habitat for Humanity of Southwest Montana. We have completed 7 homes to date with more housing construction underway in 2021. The Mountain Horizons subdivision offers unparalleled 360 degree mountain views nestled in beautiful Whitehall, Montana. NAHN and Habitat for Humanity are offering housing opportunities through our Mutual Self Help Housing Program. In this program, families complete 65% or more of their home as part of a build team that works together on one another's homes. 
Whitehall is an enjoyable, growing community that is constantly updating and adding more amenities. Building a home through our Mutual Self Help program is a great way to set up your life in a wonderful small town with beautiful views. Multiple high-performance home designs are available to choose from in a variety of sizes. These designs include flexible interior layouts and homeowner's choice of colors and finishes. Other options include carports and full solar energy systems.
The Mountain Horizon Subdivision is a signature housing project in Montana. NAHN and Habitat for Humanity SWMT, each organization with more than 20 years of service, and their project partners are fair housing providers and equal opportunity employers, serving all legal residents over 18 years of age. All families or individuals are eligible, regardless of race, disability, age, sex, marital status, family size, retirement status, or religion. If you are interested in building in the Whitehall Mountain Horizons Subdivision start your application today! If you would like to find out more information on the Mountain Horizons Subdivision and Housing Opportunities through NAHN please call our office at (406)782-8579. To apply for available housing in Whitehall or other locations in Sout